Waumandee State Bank
Senior Scholarships
Scholarship Eligibility/Requirements
*Application period has concluded for 2023 students. Check back at the start of 2024 for more information.
Waumandee State Bank offers a five hundred dollar scholarship to eligible high school seniors in our area annually. There is one scholarship available for each of the nine schools listed below.
Requirements:
Must be a high school senior currently attending one of these area high schools:

Alma
Arcadia
Black River Falls
Blair
Cochrane-Fountain City
Durand
Gilmanton
Mondovi
Whitehall

Must be planning to attend a college/university, or technical/vocational school for post-secondary education in a business-related field or program
Must complete the scholarship application document linked below:
Applications must be submitted to Waumandee State Bank by 5 p.m. on April 14, 2023 to be considered.
Completed applications may be submitted in person at any bank branch or mailed to our main office. If you are unable to submit through either of these methods or require special accommodations, please contact Phillip Pronschinske at 608-626-3131.
Mail applications to:
Waumandee State Bank - Attn. Phillip Pronschinske
S2021 County Road U
Waumandee, Wisconsin 54622
**Any students awarded with a Waumandee State Bank scholarship will be required to provide a transcript of their first semester grades to Waumandee State Bank no later than February 23, 2024 to ensure they receive their scholarship payment. Transcripts must also demonstrate passing grades.
---
Wisconsin Banker's Foundation Scholarship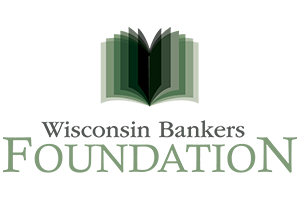 The Wisconsin Banker's Foundation sponsors annual scholarships for graduating high school seniors, current college students, and adults returning to school. For more information, visit the Wisconsin Banker's Foundation website. Applications for their 2023 scholarship will open January 30, 2023 and close March 15, 2023 so be sure to take time and apply between those dates if you are eligible.